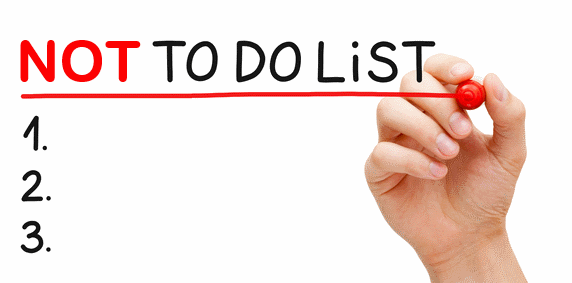 We've all most likely heard about the need to make lists and prioritize the things we need to do. And it's true. For almost everyone, having a to-do list helps keep us focused and makes us more productive. A mentor and coach of mine recently talked about the need to have a DO NOT DO LIST. This really got me thinking, and as he talked about it more, and shared his own list for the current year of things he wanted to stop doing, it really got me thinking...
Don't we all have things that we do we wish we didn't?
Aren't there things that take up our time, capacity, and focus that we know we should cut out?
Well, as with anything, instead of hoping and wishing, what if we made a DO NOT DO list for ourselves, and started focusing with the same energy and tenacity on the things we want to quit doing as we do with the things that we know we have to do?
Just a thought.
For me, I came up with three things immediately that I want to stop doing that:
1) I WILL NOT want to waste my money on insignificant trinkets and items. I'm terrible about grabbing a $1 tea from McDonald's because I'm thirsty....twice a day. That doesn't seem significant, but that money adds up And I would be just as happy with bringing my thermos of coffee and my tumbler of ice water to refill!
2) I WILL NOT want to sacrifice my family night for anything that is not a critical emergency. As a pastor, these do happen. A house fire, a car accident, a heart attack. It's not something I hope for, but it's a reality of the line of work. And when those things happen, you can't wait to respond until after the movie is done or the game is finished. However, the leader who wants to meet or talk on the phone about an idea can. Even the person who calls to inquire about a listing at 7:30 can leave a message.
What's the worst that can happen? Someone gets upset I didn't listen to their idea or I lose a potential client? Sure, those things are sad and unfortunate. But you know what's more unfortunate? Having my kids think they aren't as important as a paycheck. Guess what...its only money. And money isn't nearly as valuable as time or as a memory.
I want to do a good job and care for people—in my church and who are clients or potential clients—but at the end of the day having a good relationship with my kids, and a healthy marriage, is far, far more important.
3) I WILL NOT compare myself to others in my industry. The reality is, I am a rookie real estate salesperson and I pastor a small (but growing!) church. I want to be good at both. But I can't look at the month I've had on the market and compare myself at this point to my mentor and friend, Deron. He's grown up in this industry and has a few years of experience on me. So if I look at how I'm doing next to how he's doing, I'll feel like a failure.
But when I look at how I'm doing compared to how I was doing last month, now there's something! Am I more informed? Have I made more connections? Have I supported more people? Have I encouraged more people than I did last month? If I focus on THOSE comparisons, it is a healthy balance. So, I will compare (in terms of business, effect, and efficiency) where I am to where I was... But I WILL NOT compare myself to anyone else!
What about you? What are a few things you need to make a DO NOT DO LIST and stop doing? Shoot me an email at
therealestatepastor@gmail.com
or leave a comment below!